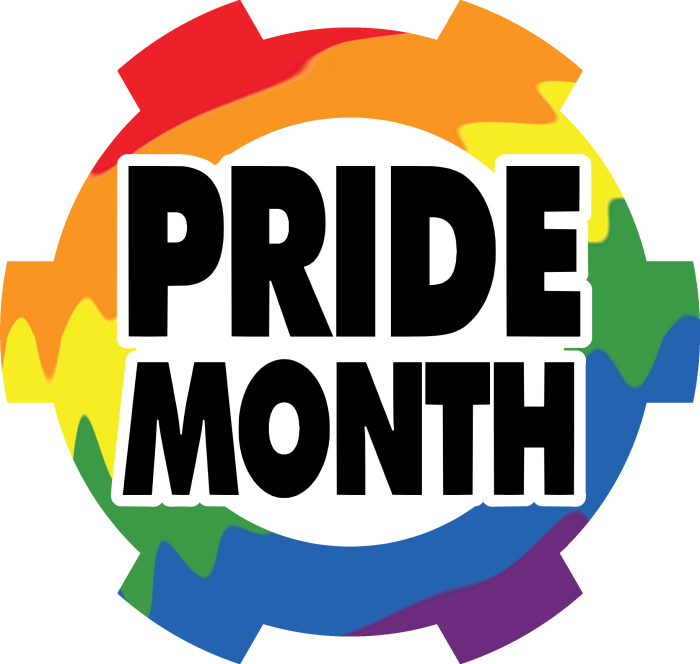 We're celebrating Pride Month by featuring our amazing titles and their extremely talented creators! On this page you can browse our featured titles, as well as follow our Iron Circus Geekshow scheduled guests for June.
Iron Circus Geekshow
Throughout June, "Iron Circus Geekshow" will be featuring ICC creators as guests! Geekshow is a casual, informal podcast hosted by C. Spike Trotman, Kel McDonald, and Amanda Lafrenais. You can find past and future episodes on the ICC Youtube channel.  All streams air at 8:00 PM Central.
06/01
Sage Coffey
(Wine Ghost Goes to Hell)
06/08
Jon Allen
(Julian in Purgatory, The Lonesome Era)
06/15
Kendra Wells
(Real Hero Shit)
06/22
Jessie Sheron
(The Sea in You)
06/29
Bree Wolf
(Hex Americana)
Featured Titles
As the Crow Flies

Charlie Lamonte is thirteen years old, queer, black, and questioning what was once a firm belief in God. So naturally, she's spending a week of her summer vacation stuck at an all-white Christian youth backpacking camp. As the journey wears on and the rhetoric wears thin, she can't help but poke holes in the pious obliviousness of this storied sanctuary with little regard for people like herself . . . or her fellow camper, Sydney.

As the Crow Flies is a Stonewall Honor Book, and is the first volume in a series!

Banned Book Club

The gripping true story of a South Korean woman's student days under an authoritarian regime in the early 1980s, and how she defied state censorship through the rebellion of reading.

In BANNED BOOK CLUB, Hyun Sook shares a dramatic true story of political division, fear-mongering, anti-intellectualism, the death of democratic institutions, and the relentless rebellion of reading.

Chancellor and the Citadel

The world is over. All that remains is the Citadel, and the Chancellor who protects it from the hostility beyond its walls. But what can she do when a fearful and angry mob is convinced she brought the world to ruin in the first place, and are determined to make her pay for it by destroying the one bastion of hope the world has left?

In her dramatic, richly imagined graphic novel debut, cartoonist Maria Capelle Frantz has created a brisk fantasy tale about the fears that lead to war, and the bonds that can keep a stronghold standing against the darkness.

Crossplay

Close friends and new acquaintances at an anime convention confront their crushes, challenge their hang-ups, and question their once-comfortable identities in this erotic graphic novel about discovering who you're meant to truly be and who you're meant to love.

Crossplay is an earnest love letter to anime fandom, and the graphic novel debut of Smut Peddler creator Niki Smith.

Curvy

Anaïs Phalèse plays softball, panics about her physics exams, and lives on what the rest of the interdimensional realities dismiss as Boring World . . . better known to us as "Earth." That is, of course, until one fateful trip to the organic food market when Anaïs gets shot in the arm while trying to help a bizarre and beautiful stranger. This is the fabulous Fauna Lokjom, Licorice Princess of Candy World, and Anais wants to find out a lot more about her!

A profoundly silly and sexy sci-fi romp for adults, THE COMPLETE CURVY collects the wildly popular webcomic in a gorgeous two-color single volume for the first time ever.

Girls with Slingshots

The MASSIVE compiled and remastered edition of Danielle Corsetto's long-running hit webcomic about 20-something BFFs Jamie and Hazel. One of the most popular webcomics of all time, Girls with Slingshots' eleven-year run followed the adventures of Hazel Tellington, Jamie McJack, and their close-knit group of friends as they unsteadily and enthusiastically navigated their twenties and beyond. Girls with Slingshots collects the entire strip in one place for the very first time, including thousands of full-color comics with never before seen creator insights and art.

The two volumes come in a slipcover that is also cloth-wrapped, with foil-stamped art.

Coming Soon!

Hex Americana

Ken Takamotois a wannabe racer stuck at home for the summer, with only his mother for company.Dante Willowis a ghost stuck in the car he crashed while racing his rival twenty years ago.

When they meet by chance, Ken has the answer to both their problems: enter the local racing league Hex Americana and win the annual Grand Prix. If they win, Dante can pass on to the afterlife and Ken can keep Dante's fixed-up car to go anywhere he wants. What starts as a simple plan becomes a wild summer full of witches, gnomes, feelings, magical chickens, and more as they prepare for the big race.

It's Your Funeral

Marnie Winters was going to turn her life around; get out of the house, make friends, no more "Miserable Old Marnie!" Everything was going to plan, but then, of course, she died. Now, Marnie's a ghost trapped on Earth, and the only one who can help her is the overenthusiastic, alien social worker, Xel, who has a much better idea to soothe Marnie's troubled spirit: an internship in the hopeless bureaucracy of the trans-dimensional Department for Spectral Affairs!

Julian in Pergatory

Julian is going to change his life! Get off the couch, get a job, stop disappointing his girlfriend and his family.

But first: maybe a couple of pills.

An awkward, wince-worthy, and hilarious companion piece to creator Jon Allen's previous work, The Lonesome Era, Julian in Purgatory is a wild safari through one kid's bad choices and worse consequences.

Lackadaisy

It's 1927 and Prohibition is in full effect in St. Louis, Missouri. Organized crime has risen to meet the relentless demand for illicit alcohol. Bootleggers, gangsters, and might-makes-right rule dominate the city's underworld, fueled by the patrons of speakeasies — speakeasies like Lackadaisy.

Hidden under the unassuming Little Daisy Cafe and run by the widowed and strong-willed Mitzi May, Lackadaisy holds its own in a rough-and-ready world, where you're either holding the gun or taking the bullet. But will tenacity, class, and a little bit of crazy be enough to ensure the survival of Mitzi and her gang?

Last Halloween

It's a lonely Halloween night for ten-year-old Mona. While everyone else is out having a ghoulishly good time, she's stuck inside without so much as a scary movie to watch. Just when she figures this evening can't get much worse, a giant monster appears in her living room, proving her very, very wrong. Running for her life, Mona quickly sees that she's not alone; trick-or-treating's been canceled due to monster invasion! A barrier keeping billions of monsters at bay has broken and the horrific hordes have descended upon humanity, wreaking bloody havoc everywhere they stomp, slither, or squish. She may not be equipped for it, but it's up to Mona to save the world with a team of fellow weirdos by her side. Perhaps they will succeed.

Or perhaps this will be . . . The Last Halloween.

Letters for Lucardo (series)

Ed and Lucardo are forced to contend with the culture shock of a mortal man's presence among the deathless, the dangerous disapproval of the sitting Lord of the Night Court, and Ed's own ever-present mortality, threatening to bring an end to their romance in the blink of an everlasting eye.

Letters for Lucardo
Fortunate Beasts
The Silent Lord

The Lonesome Era

Camden is a cat. Camden is also crushing hard on his best buddy and all-around bad influence, Jeremiah. Young, bored, and trapped in a decomposing Rust Belt town, Camden goes along with every awful idea, every hair-brained plan, and every threat to life and limb Jeremiah can come up with. But how much longer can this go on?

With acute perception and sensitive wit, Jon Allen explores the depths of teenage yearning below the deceptively shallow details of everyday life in a powerful, page-turning coming-of-age tale.

Coming Soon!

Lucky Poor

Mazie's family has been gifted with a fantastic prize: their very own, brand-new house, built for them by Habitat for Humanity Canada. But it's an award that comes with a number of strings attached, and soon, they'll learn just how many problems even a new home can't fix.

An inside look at inequality and second chances, struggle and hope, hard work and charity, THE LUCKY POOR is the incredible true story of one life-changing event and every unexpected thing that happens next.

Meal

Yarrow is a young chef determined to make her mark on the cutting edge of cookery with her insect-based creations. Though her enthusiasm is infectious, it rubs some of her fellow cooks the wrong way, especially Chanda Flores, Yarrow's personal hero and executive chef of an exciting new restaurant. Her people have been eating bugs for centuries, and she's deeply suspicious of this newbie's attempt to turn her traditions into the next foodie trend. While Chanda and her scrappy team of talented devotees struggle to open on time, Yarrow must win over Chanda — and Milani, the neighbor she's been crushing on for weeks — or lose this once-in-a-lifetime opportunity to achieve her dreams.

A Junior Library Guild Selection
2018 VLA Graphic Novel Diversity Award Winner
2019 Prism Award Winner

Patience and Esther

Patience is a kindhearted country girl, eking out a living in Edwardian England as tremors of social change rock the world around her. When she starts her employment in formal service on the grounds of an opulent country manor, she has no idea that her own personal revolution is about to begin.

Selfless, dutiful, and just a touch naive, she takes to both her place as a parlor maid and to her new roommate, the bookish and progressive lady's maid, Esther. In another time, the two women would have kept one another's company forever in their little attic bedroom, living out their days in the employ of a Lord. But it's now the dawn of a new age. The expanding empire has brought with it not only plundered wealth, but worldliness and new ideas. Suffragists agitate in the street, idle-rich bohemians challenge sexual mores, and Patience and Esther slowly come to realize the world is wider and full of more adventure and opportunity than they ever imagined …so long as they find the will to seize it.

Real Hero Shit

Bastard Prince Eugene has decided on a whim that he will be a HERO… much to the dismay of the adventuring party of Michel, Hocus and Ani. But the decision is out of their hands, and they're forced to take him along on their travels. Life on the road is different than Eugene expected, but there's no time to wallow in pouty disappointment; townsfolk are going missing.

It's the perfect opportunity for the prince to save the day, and even make his companions some coin! But unfortunately, his royal highness is about to learn the system that kept him safe in his silk-sheeted bed isn't particularly concerned with the well-being of anyone who isn't him. A funny, moving, tongue-in-cheek fantasy adventure!

Yes, Roya: Color Edition

Wylie Kogan is an aspiring artist, stumping for work in 1963 California. When a fawning fan letter grants him access to his cartoonist hero, the wealthy and celebrated Joseph Ahlstrom, he's quick to take advantage of a proffered portfolio review . . . but winds up learning more than he ever wanted to about Joe when he stumbles across some of his idol's illicit fetish art. His hasty, ill-considered theft of a drawing triggers a series of events he never planned on . . . most of which involve Joseph's imposing and resolute partner, Roya.

This universally-lauded erotic classic, originally published in black and white, is now available in brilliant FULL COLOR.

Coming Soon!

The Sea in You

15-year-old Corinth was just trying to clean up the beach; she never expected to meet a mermaid, let alone be nearly drowned by one. It was the start of a very strange friendship!

A whimsical dark fantasy retelling of "The Little Mermaid," The Sea in You upends everything you thought you knew about magical creatures of the deep, on a whirlwind journey to a whole new world you've only dreamed of before!

Shadoweyes

Moody, frail teenager Scout Montana is an aspiring vigilante, but her first unsteady attempts at distributing street justice ends with a brick to the forehead and an embarrassing spell of unconsciousness. But when she awakens, Scout discovers that she's inexplicably able to transform into a strange, alien creature. She quickly becomes the mysterious superhero Shadoweyes, relishing her newfound power to do good. However, Scout begins to lose control of her new ability… and soon finds she's unable to return to her human form.

Softies

When planet Earth just kind of blows up without warning, 13-year-old Kay becomes the world's youngest chunk of space debris. She's inadvertently rescued from the vacuum by Arizona, an alien space-waste collector, and Euclid, his erudite cybernetic pet, and from there this unlikely trio blasts off for the most outlandish, hilarious, and occasionally bureaucratic adventure of their lives!

As Arizona tries to keep their ship on course and show Kay the ways of the wider universe, her new role as Earth's sole survivor slowly comes into focus through each increasingly silly stop on their wild intergalactic road trip. The fledgling team is on a search for the next big score and a loose concept called "home," both answered by the eternal question: "Where to next?"

Stars Hide Your Fire

Andrea and Darra live in a dead-end Massachusetts town, making their way through high school with hopeful (but slim) dreams of escape. Everything's going according to plan until a chance encounter with an otherworldly spirit named Carmen changes everything!

Carmen promises Andrea eternal life, but a mysterious young boy named Liam shows up claiming he had also made a deal with Carmen, and it didn't go well . . . 100 years ago. Liam must convince his new friends of Carmen's evil nature before Andrea is tricked into a supernatural bargain that will upend her new life before it even starts.

The Epic Adventures of TJ and Amal

The Less Than Epic Adventures of TJ and Amal omnibus collects the full 2009–2014 run of E.K. Weaver's critically acclaimed road trip romance, with brand new full-color inserts. This is Iron Circus Comics' first third-party book, and we couldn't be prouder to publish the definitive edition of one of our favorite webcomics of all time.

Make no mistake, this is a huge book, clocking in at well over 500 pages. The complete and perfect story, from beginning to end, with lush scenery spreads in glorious full color!

Coming Soon!

Wine Ghost Goes to Hell

You know that girl you saw on Tinder and you audibly said, "wow" and "yikes"? Well now she's dead, and this book is about her!

When she was alive, she was an alcohol-soaked train wreck. Now that she's dead . . . well, same, but she uses her supernatural powers to help folks out who've recently arrived in Hell and need to learn the ropes. Imagine if the magazine Hollywood Insider was a person. Now imagine that person is a dead alcoholic. That's Wine Ghost! She is fashion. She is drama. She insists that wine counts as a fruit. And she may be her newly dead friend's only hope of finding inner peace!